Suppliers » CTP Textiles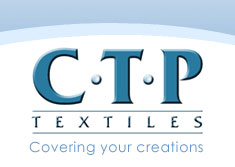 CTP Textiles Limited is a forward-thinking company with a dynamic outlook that is focused on key markets in the contract manufacturing industry - in particular: the leisure, education, healthcare, hospitality, and mobility sectors.
Key factors in the success of the company are the product and market knowledge of its staff, and its total commitment to product and service excellence. CTP Textiles is an ethical and socially responsible company that promotes fair trade throughout the supply chain in order to achieve a fair return on investment for all.
CTP Textiles specializes in supplying high-performance flame retardant, hard-wearing upholstery fabrics to the contract manufacturing industry. As a quality-driven company, CTP Textiles works closely with its suppliers, interior designers and customers to ensure that the expectations of the industry are met today and in the future.
An integral part of the growth strategy of CTP Textiles is the introduction of new product ranges, and the updating of existing ranges on a regular basis. This will include new textures, additional colours and patterns, and high-technology fabrics for the exacting needs of all sectors of the contract manufacturing industry.
View and order samples at www.ctptextiles.co.uk