Suppliers » Phoenix Safes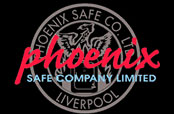 Phoenix Safe Company is one of the oldest manufacturers of safes and security products in Great Britain and can trace its history back to Liverpool in 1799 where it produced steel banded wooden strongboxes for the merchant fleets sailing to the Americas.
We are now a world leader manufacturing and distributing a range of state of the art safes to suit all requirements, ranging from residential to commercial security and or fire protection. We specialise in vital records protection for both paper and computer media forms. Our product is in stock and normally ships within 24 - 48 hours from receipt of order. All of our fire resistant safes are independently tested to European and American test standards. All fire resistant files and safes carry a life-time after-the-fire replacement warranty. We welcome the opportunity to help you secure your most important items!
View more product examples at www.phoenixsafe.co.uk